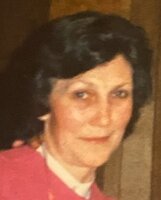 Frances Joan Sweet
Frances Joan (Nerek) Sweet, 86, of Cranston, passed away on Monday, January 23, 2023, at Kent Hospital, surrounded by her loving family. She was the beloved wife of the late Joseph Sweet. Born in Providence, she was the daughter of the late Joseph Nerek and Stella (Wasilewski) Masterson and stepdaughter of the late Edward Masterson.
She is survived by her sons Joseph and Christopher Sweet, daughter Mary Sweet, brother Leonard Masterson; sister Judi Masterson; and sister in law Deborah Masterson; grandsons Evan, Neal, and Daniel Sweet; granddaughter Sara Sweet; and great-grandsons Carson and Dominic Sweet. She was the sister of the late Thomas Masterson. She is also survived by many loving nieces and nephews.
A Mass of Christian Burial will be celebrated on Friday, January 27, 2023, at 10am in St. Adalbert's Church, 866 Atwells Avenue, Providence. Burial will follow at St. Ann Cemetery. Calling hours are respectfully omitted per the request of Frances.
For further information and condolences, please visit mountpleasantfh.com.
Arrangements by Supinski and Borrelli.