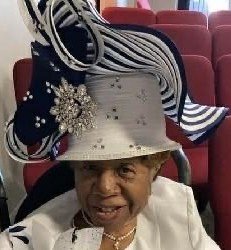 Obituary of Lula M. Jackson
Please share a memory of Lula to include in a keepsake book for family and friends.
Mother Lula Mae Jackson "When you hear of my homegoing, don't worry about me…" On Tuesday, February 2, 2021, God in his infinite wisdom ordained Mother Lula Mae Jackson to receive her crown of glory in the arms of her Lord & Savior Jesus Christ. Therefore, let it be so documented in the registry of the righteous, that in the life of this great Woman of God, destiny was fulfilled and divine purpose was accomplished. Mother Lula Mae Jackson, affectionately known as "Mae", was born on September 26, 1939 in Bridgeville, Delaware. She was the daughter of the late Louis Collins & Elizabeth (Johnson) Collins. Her mother passed away when she was young and she and her siblings were raised by their maternal aunt & uncle, "Aunt Elise" & "Uncle Luis" Smith in Greenwood, Delaware. Mother Jackson shared many stories of her childhood (the olden days) when they all worked the land growing fresh fruits & vegetables, feeding chickens, pigs, and other livestock. Mother Jackson said she loved harvesting strawberries and would eat as many as she could while picking them. Her love of strawberries continued throughout her adult life as 2 of her favorite desserts were: strawberry shortcake & strawberry ice cream. Mother Jackson was educated by the Delaware Public School System and graduated from William C. Jason High School, Class of '57, in Georgetown, Delaware. Mother Jackson always stressed the important of getting a good education to her children and grandchildren and that gaining knowledge was a part of growing. When it was time for report cards, she would always say, "You don't have to get all "A"s but don't bring home all "F"s. She attended college for 2 years before moving to New London, Connecticut to briefly live with her brother, Robert Collins & his wife Sarah. Mother Jackson persevered through the good times and the rough times leaning and trusting on the Lord. She left Connecticut and moved to Rhode Island in the early 60's and shared an apartment on Pleasant Street in Providence with the late Sis. Marie Brooks all while carrying her oldest and most beloved daughter, Sherita, in her womb. Mother Jackson shared memories of what they fed their kids back then which consisted of mashed beans, potatoes, and they made their own baby formula using Karo syrup & pet milk (now called Evaporated Milk). This certainly explained Mother Jackson's love for pet milk as she used it all the time in tea, coffee, and recipes that called for milk. She also loved spinach pies, fried scup and Lima beans. She was the widow of Willie Jackson and together, they have 2 daughters and 2 sons. Mother Jackson's best friend was Mrs. Mary Cooper whom she loved like a sister. They were so close that they were maid of honors at each other's wedding. After Miss Mary passed away, Mother Jackson became close with Miss Mary's aunt, Ms. Monnie Mae Clark. Over a course of 50 years, the 2 of them would talk for hours on the telephone. Even after call waiting was introduced, they would never click over to the answer the phone! These ladies remained friends and raised their families in the Chad Brown Housing Project where many great memories were made of cookouts, holiday gatherings, birthday parties, and just sitting outside in the summertime talking and reminiscing about good times. Mother Jackson's children have fond memories of her packing up the family's station wagon and going to church, Lincoln Woods, Rocky Point Park, or Tee-Kee's market to get her famous "RC" soda. She enjoyed celebrating every season and holiday with beautiful decorations and good food. Mother Jackson was a shopper and could always be found in Almacs, Woolworths, Zayre's, Thom McCann, and the old Outlet Building. Till this day, Mother Jackson has managed to keep and preserve thread from Zayre's Dept. store in her sewing box. She became a member of Holy Cross COGIC after hearing the gospel preached by the late Clarence E. Farrow. Mother Jackson got saved and filled with the Holy Ghost and she served under Elder Clarence Farrow until the Lord called him home in 1984. From 1984 to 2011, Mother Jackson continued the work of the Lord under his son, the late Bishop Robert E. Farrow. Because of her obedience and dedication to the Lord, she was chosen to serve as: President of Women's Department, Pastor's Aide Leader, Church Announcer (for over 20 years), Hospitality Committee worker, and was a member of the Choir. She was a Godly woman who loved the Lord. Her life was an example of Ephesians 4:32, And be ye kind one to another, tenderhearted, forgiving one another, even as God for Christ's sake hath forgiven you. Mother Jackson has always been concerned about the welfare of others and has served children and families for over 3 decades. She retired from the Providence School Department after 32 years of service which spanned from Berkshire Street School, Camden Avenue School to Pleasant View School. She came out of retirement to work as a day care specialist at the Urban League of R.I. where she received the "Employee of the Year Award" for her quality of service to urban & at-risk children. Throughout the course of her retirement, she worked various jobs to keep herself busy and volunteered as an After-School resource worker at Bishop McVinney Elementary School. Bishop McVinney was so impressed with her level of professionalism and expertise, they offered a full-time job. She received the "Living Legend" Award by the Daughters of Naomi Mentoring Network in 2019 for serving God and her church faithfully for many years. She was known throughout the City of Providence as the little lady with the small purple car with the green hood. Her interests included caring for family, tending to her household plants, cooking delicious down-home meals, and crossword puzzles. When asked why she loved doing crossword puzzles so much, she replied, "it keeps the mind sharp". The family wishes to thank her caregiver, Ms. Asia Rivers who so lovingly took care of Mother Jackson over the last year. We appreciate your loyalty and the love you showed to her each and every morning. Mother Jackson leaves to cherish her memories and anticipate a glorious reunion according to I Thessalonians 4:16-17 her 2 sons, Willie Jackson of Pensacola, Florida and Timothy Jackson & his wife Katja of Stuttgart, Germany; daughter Lisa Jackson & her husband Jerry of Providence, RI; adopted daughters, Judy Wray of Providence, RI; Tabitha Hutley of Warner Robbins, Georgia; Johnnie Mae Matthews of Winter Haven, Florida; beloved grandchildren: Joseph Collins, Nolan Jackson, Narjette Jackson, Phillip Jackson, & Eli Jackson as well as a legacy of great grandchildren. She also leaves behind a sister, Elvinia Moody, in New Castle, Delaware; she was the mother of the late Sherita Ann Collins. A Homegoing Service celebrating her life that was so beautifully lived for God will be held on Saturday, February 20, 2021 at Iglesia Vision Evangelica (formerly known as Holy Cross Church), 1014 Broad Street, Providence, RI 02905. Visitation is at 10am and the Victory celebration is at 11am. The committal will follow at North Burial Ground in Providence. All CDC guidelines will be followed. Apostle John writes about heaven and says, "And God shall wipe away all tears from their eyes; and there shall be no more death, neither sorrow, nor crying, neither shall there be any more pain: for the former things are passed away" Revelation 21:4. Even though we want her back in this life, we know that this world can never compare to the happiness in heaven. The King of Kings and Lord of Lords has welcomed her with open arms and has given her the "keys" to her heavenly mansion. "Well done, thy good and faithful servant; enter thou into the joy of the Lord" You will be missed immeasurably.
To send flowers to the family or plant a tree in memory of Lula Jackson, please visit Tribute Store
Iglesia Vision Evangelica
10:00 am - 11:00 am
Saturday, February 20, 2021
Iglesia Vision Evangelica
1014 Broad Street
Providence, Rhode Island, United States
Share Your Memory of
Lula