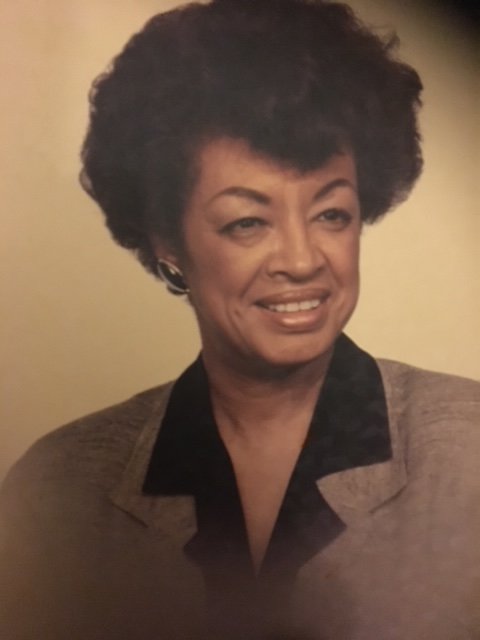 Obituary of Allene R. Maynard
Please share a memory of Allene to include in a keepsake book for family and friends.
Allene Ramona Maynard, affectionately known as "Sister," passed away peacefully on Saturday, May 29th, 2021, surrounded by loving family members. Allene was the second-born child of the late Allen Bonay and Sarah (Hamlin) Bonay, both of Providence, Rhode Island. She shared her life with her husband of 62 years, the late Richard Matthew Maynard, Sr. of Providence, Rhode Island. Allene was preceded in death by two sisters, Blanche "Tillie" Taylor (Wylie) and Gloria "Cutup" Smith (Edward), both of Providence. She leaves to mourn her remaining sister, Claire Lunsford (Eugene) of Providence, three children, Kim Richelle Maynard, Tanya Maynard, and Richard Maynard Jr. (Cerena Reid), five grandchildren, Dominique Barnes (Ty), Diamond Maynard, Tyler Lewis, Kyle Spencer and Trinity Rucker, and two great-grandchildren, Laila and Landon Barnes. Allene was a ferocious reader who graduated from Central High School with honors in 1957. She began her career at the State of Rhode Island's Department of Employment Security as a Clerk-Stenographer. She then worked as the Assistant to the Director of Gilbert Stuart High School, which was a part of the Providence Community Action Program. Her life began to accelerate after she joined the Providence Head Start Program working as the Career Development Coordinator. Here she was awarded scholarships to attend Roger Williams University in Bristol, RI, where she received her Associate's Degree in 1974, and a Bachelor's Degree in 1976 majoring in Public Service Administration and minoring in Political Science, graduating Magna Cum Laude, on the Dean's List, and in the Cum Laude Society. After college, Allene had the privilege of becoming the Executive Assistant to the General Treasurer of The State of Rhode Island, Mr. Anthony J. Solomon, during his term in office. She later worked for the National Education Association and the Providence American Newspapers in Executive Administration capacities. Allene's political career included working for The State Of Rhode Island General Assembly for the Senate Majority Leaders Office as a Clerk. She then became a Governor's appointed Commissioner on the Rhode Island Commission of Criminal Justice. Allene was elected as the Rhode Island Democratic State Committeewoman, House District 19 – in succession for 12 years. She also served as a Rhode Island Constitutional Delegate elected from 1985 to 1986. She continued to serve on the Ethics Committee as a member and as the Public Relations Secretary. Allene was a lifelong Democrat. In 1989, she organized the Young Minority Democrats of RI. She also served as the RI Democratic Party Executive Board member, Board Officer (Corresponding Secretary), and member of several committees. One of her fondest memories was participating in the Democratic National Convention and witnessing the speech given by the young State Senator Barack Obama in 2004. Allene hosted a TV news show called Take 12, working with Hank Bouchard. She enthusiastically worked as a State of Rhode Island Voter Registrar Agent. She was a member of the NAACP and the Urban League Guild of Rhode Island, serving as a Past President. Allene was a member of the Prince Hall Masonic Temple family, past Illustrious Commandress of the Daughter of Isis Constantine Court #8, and Areme Chapter #3 Order of the Eastern Star. Allene was a beacon of light who was committed to advancing minorities and promoting positive change in the community. New and aspiring politicians (i.e., Patrick Kennedy) sought Allene's advice when developing new campaign platforms. She provided a wealth of knowledge for campaign strategies that fought injustice, promoted community change, and worked to disrupt racial inequality. Allene had a strong social conscience which prevented her from allowing injustice to occur without speaking up and getting involved to promote change. She served as a role model who inspired others to reach their full potential while striving to do their very best. Her strength and courage to follow her dreams and seek out opportunities for change will always be admired. A visitation will be held on Saturday, June 5th, 2021, at the Ebenezer Baptist Church, 475 Cranston Street, Providence, from 9:00 am - 11:15 am, followed by a service at 11:15 am. Burial will follow at Swan Point Cemetery. If you would like to order flowers for the services, please order from Golden Gate Studios, 2003 Broad Street, Cranston, RI. For further information and condolences, please visit mountpleasantfh.com.
To send flowers to the family or plant a tree in memory of Allene Maynard, please visit Tribute Store
Share Your Memory of
Allene