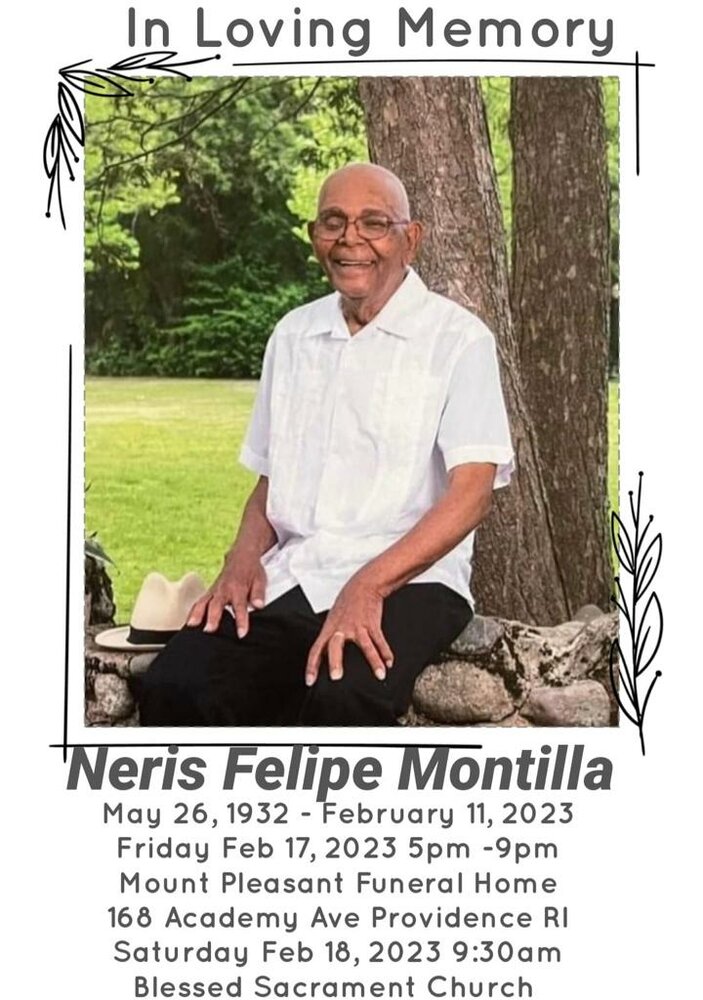 Obituary of Neris F. Montilla
Please share a memory of Neris to include in a keepsake book for family and friends.
Neris F Montilla

Nació el 26 de Mayo, 1932 en el Cercado, Las Matas de Farfán. Padres Emiliano Montilla y
Altagracia Montilla. Negro, apodo que todos solían llamarlo, fue un multifacético durante su vida laboral.
Desempeño las labores de Sastre, musico en la banda municipal de su pueblo natal, Bombero,
fotógrafo, chófer y por último , operador de máquina de joyería. Casado con la Señora
Marianela Sánchez (fallecida) por más de 65 años. Procrearon 11 hijos, centenares de nietos,
bisnietos, tataranietos. A principio de los años 90, emigraron a los Estados Unidos, donde se
integra a trabajar en una factoría de joyería. Desde entonces la ciudad de Providence fue el
lugar que lo acogió, dónde cada Sábado del verano solía ir a yardear en compañía de su
amada esposa. El inglés no fue ningún obstáculo para negociar los precios de compra, puesto
que a todo lo que el le gustaba para comprar en los yard sale, sólo ofrecía Fifty Cent's. No
importaba cuál fuese su precio, fifty cents my friend. A lo largo de su vida, gozó de una buena
salud. Su vista no fue la mejor, pero podía ver muy fácil la necesidad del otro y secretearle a
Marianela para que le ayudara a resolver la situación. Defendió siempre a todos los suyos, su
amor único por sus familiares no era negociable. Las rabietas que los Montilla exponemos,
fueron parte de el también, claro, al poco tiempo se le olvidaba la misma. No hay maneras de
medir el tamaño de nobleza, humildad y generosidad que en vida este ser mantuvo. Detrás de
un gran hombre, hay una gran mujer Marianela Montilla. Descansa en paz papá , juntos a tus
seres queridos, Manuel Emilio ( Cuchu), Nilson (Yoya) y con tu amada esposa, MAMÁ y todos
tus hermanos. Siempre vivirá en nuestros corazones. Hasta siempre PAPÁ.
To send flowers to the family or plant a tree in memory of Neris Montilla, please visit Tribute Store
Share Your Memory of
Neris